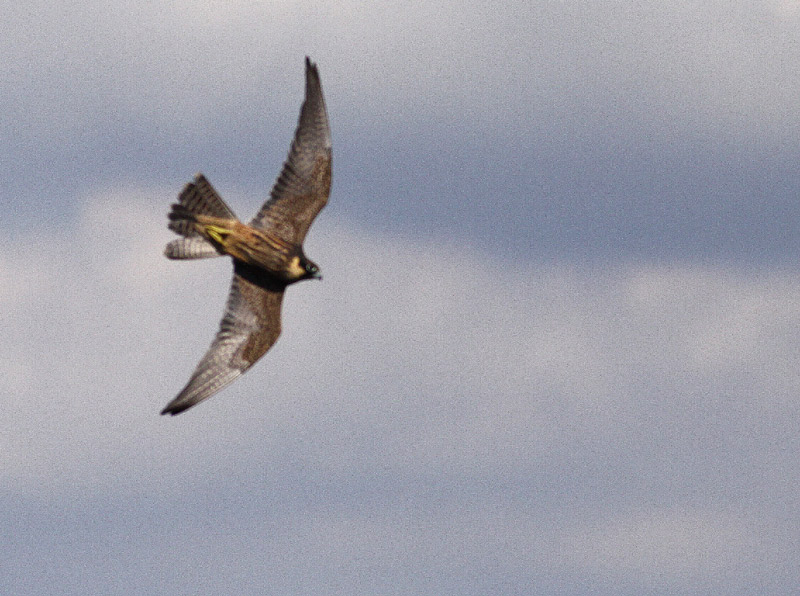 Fugleart:
Eleonorafalk - (Falco eleonorae) - Eleonora's Falcon
Fugleart (IOC):
Eleonorafalk (Falco eleonorae) Eleonora's Falcon - species factsheet
Stemme:
Stemmer findes her (eksternt link).
Titel / info:
1K
Lokalitet:
Büyük Camlica, Istanbul, Thrakien, Tyrkiet
Dato:
23. september 2009
Billede info:
Denne falk var én af flere rastende dagligt ved Büyük Camlica. Den blev fotograferet som "endnu en Lærkefalk", men ser på billedet ganske afvigende ud - den har således en for arten usædvanligt rødbrun underkrop - en rusttoning, der fortsætter ud på undervingedækfjerene, der derved bliver mørkere end normalt. Sådanne varianter er sjældne - men hvor sjældne? På billedet ligner fuglen faktisk næsten en Eleonorafalk.

Concerning jizz and flight set this bird did not look eye-catching from Hobby, but the brown colour on the underbody and in under wing-coverts, as seen in this photo, looks strange and made the photoed bird appear rather close to Eleonoras´s Falcon. Any suggestions?
Fotograf:
Klaus Malling Olsen, Danmark
Uploadet den:
27. september 2009
Hits:
Billedet har været vist 15265 gange.
DK List Ranking:
Set af 6 ud af totalt 1510 personer!
En oversigt over forekomsten af denne art i Danmark findes her: [fund oversigt].
Nye kommentarer til dette billede er ikke muligt.
Bemærk: at alle billeder har copyright og må ikke anvendes uden accept fra den respektive fotograf.